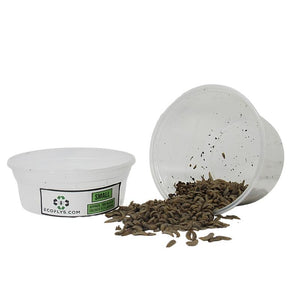 Small Black Soldier Fly Larvae
Small Black Soldier Fly Larvae
Small black soldier fly larvae are excellent for reptile hatchlings and very small reptiles.

Length: 0.25 inches    Weight: 0.02 - 0.03 grams
Black soldier fly larvae are raised on a probiotic-treated grain diet and contain 20x more calcium than the leading feeder insect. Their balanced Calcium: Phosphorus ratio makes them the ideal diet for your reptiles. Since the CA:P ratio is balanced BSFL have the most absorbable calcium of any feeder insect and there is no need for additional dusting.
We guarantee live delivery, and always include an additional 10% with your order to ensure satisfaction. The shelf-life of our BSFL is at least 2 weeks if stored as instructed.
*This product is not intended to be used as medicine or an occasional snack to treat Metabolic Bone Disease, this product must be provided on a regular basis to prevent or cease the development of MBD. MBD cannot be reversed.
Never received any of the 3 orders I placed. No response from anyone.
I placed three orders with this company for BSFL. I never received any orders. I contacted the company multiple times, no response to any calls or emails. Packages were supposed to be held at the post office for pick up, post office never had the packages. Multiple trips to the post office, multiple calls and emails, no help from anyone. I'm out over 150.00 and still have no response. Don't waste your money, order from somewhere else.
Small larvae
It took 3 weeks to get my order, but in this heat that's pretty good. It's to be expected with live animals that they won't always be shipped out fast due to weather or other factors. None were dead on arrival, but i did have about 50 escape into the box. Overall, this was a good experience and I will be ordering from here again.
Long wait after order even before Mon-Tues
On your website it says you guys ship every Mon-Tues but I order before those days and it still passes those days and ships on the next monday or tuesday...maybe.